AFGHANISTAN TALIBAN CRISIS, 7 PEOPLE KILLED THRONG KABUL AIRPORT TO FLEE TALIBAN
President Ashraf Ghani has left the country as the Islamist militants entered Kabul, bringing the Islamist militants close to taking over the country two decades after they were overthrown by a US-led invasion.
The Taliban is returning to power in Kabul after a military advance across Afghanistan. President Ashraf Ghani fled the country on August 15 as the Islamist militants entered the city, bringing the Islamist militants close to taking over the country two decades after they were overthrown by a US-led invasion. Their advance accelerated as US and other foreign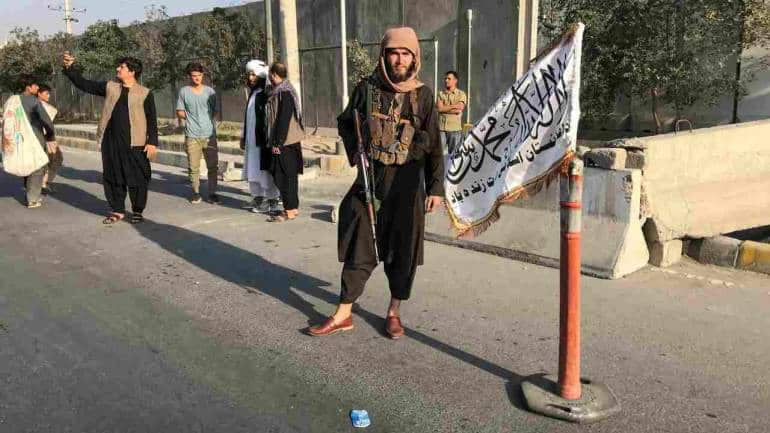 7 KILLED AS PEOPLE THRONG KABUL AIRPORT TO FLEE TALIBAN RULE IN AFGHANISTAN
At least seven people, including three Afghan nationals who clung to a US Air Force plane to escape Taliban rule, died on Monday in a melee at the Kabul airport, as hundreds of people scrambled to board flights in a desperate bid to get out of Afghanistan, following the toppling of the government led by President Ashraf Ghani. Taliban insurgents swept Kabul on Sunday after the US-backed Afghan government collapsed and President Ghani fled the country, bringing an unprecedented end to a two-decade campaign in which the US and its allies had tried to transform the war-ravaged nation.
INDIA IN TOUCH WITH AFGHAN SIKHS AND HINDUS , WILL BRING THEM
In its first reaction to the unfolding developments in Afghanistan, India on Monday said it is constantly monitoring the situation and will take all steps to ensure the safety and security of Indian nationals as well as its interests in that country. External Affairs Ministry Spokesperson Arindam Bagchi said India is also in touch with representatives of the Afghan Sikh and Hindu communities in Afghanistan and will facilitate the repatriation of those who wish to leave that country.
"The situation in Afghanistan is being monitored on a constant basis at high levels. The government will take all steps to ensure the safety and security of Indian nationals and our interests in Afghanistan," Bagchi said. Capping its month-long rapid advances, the Taliban took positions in Kabul on Sunday evening hours after Afghan President Ashraf Ghani left for an unknown destination, paving the way the takeover of the capital as well as the country.
"The security situation in Kabul has deteriorated significantly in the last few days. It is changing rapidly even as we speak," Bagchi said. He said there are a number of Afghans who have been India's partners in the promotion of mutual developmental, educational and people-to-people endeavours and India will stand by them.
"We have been issuing periodic advisories for the safety and security of Indian nationals in that country, including calling for their immediate return to India," he said. "We had circulated emergency contact numbers and had also been extending assistance to community members. We are aware that there are still some Indian nationals in Afghanistan who wish to return and we are in touch with them," Bagchi added.
Pak 'aiding' in evacuating foreign community members from Afghanistan: Officials
The statement from Pakistan's foreign office comes on the same day when its Prime Minister Imran Khan hailed the Taliban takeover of Afghanistan by saying Afghans have "broken the shackles of slavery."
US troops reportedly fired shots into the air at Kabul airport on Monday after scores of Afghans assembled at the airport, trying to get to the plane in order to leave Afghanistan as Taliban captured the country.
Amid unrest in Afghanistan following Taliban's takeover of the country, Pakistan on Monday informed the diplomatic community in Islamabad about its efforts in aiding the evacuation of international community members from the war-torn nation.
According to news agency PTI, Pakistan's foreign secretary Sohail Mahmood briefed the Diplomatic Corps in Islamabad on facilitation of evacuation, the foreign office stated. He briefed them regarding arrangements made by Pakistan to enable evacuation of diplomats and staff, INGOs, media, and representatives of international organisations, and others from Afghanistan.
"The members of the Diplomatic Corps were informed that all requests for evacuation/relocation may be directed to the ministry of foreign affairs, which will be processed expeditiously," PTI reported quoting a foreign office statement.
In the matter of rendering assistance to Pakistani citizens in Afghanistan, the foreign office stated that it was not only contributing in that but the embassy of Pakistan in Kabul was also working to extend requisite consular services for such facilitation.
DHAKA " CAREFULLY OBSERVING AFGHAN SITUATION SPECULATION ON BANGLA EXTREMISTS JOINING TALIBAN
Bangladesh on Monday said it was "carefully observing" the developments in Afghanistan which may have an impact on the region and beyond, amid speculation by security experts here that some home-based extremists were trying to join the Taliban in the war-ravaged country.
The brutal war in Afghanistan reached a watershed moment on Sunday when the Taliban insurgents closed in on Kabul before entering the city and taking over the presidential palace, forcing embattled President Ashraf Ghani to join fellow citizens and foreigners to flee the country. "Bangladesh is carefully observing the fast evolving situation in Afghanistan, which we believe, may have an impact on the region and beyond," the foreign ministry said in a statement.
UK'S DEFENSE CHIEF HOLDS BACK TEARS AMID AFGHANISTAN CHOOS
British Defense Secretary Ben Wallace held back tears Monday as he conceded that Britain was unlikely to be able to evacuate all its Afghan allies from Kabul. Wallace, who served as a captain in the Scots Guard before entering politics in the late 1990s, has in recent days voiced regret at the sudden seizure of Afghanistan by Taliban militants. He has openly worried about the potential return of al- Qaida and instability in Afghanistan and criticized the deal then-U.S. President Donald Trump signed with the Taliban in February 2020 that limited direct military action against the insurgents.
But it was during his morning media round on Monday, the day after Kabul fell, that Wallace briefly offered a glimpse into the strain he has been under. Speaking via webcam on LBC Radio, Wallace's voice started shaking when he began describing his regret at Britain's likely inability to get all eligible Afghans back to the U.K. in coming days.
"It is a really deep part of regret for me that some people won't get back," he said. "Some people won't get back and we will have to do our best in third countries to process those people."